The Devil is in the Details
We've been having a relative leisurely return back to the grindstone and are busy with all those random details in the rental before renting. These items fell into a few categories (1) new problems post-tenants(ie. repairing holes from the
flooring project
and the
radiator leaking incident
) (2) Post-renting issues (ie. Painting, cleaning) or (3) catching up on our to do list.
Part of the issue is the myriad of "details" associated with an older home. Before renting the unit, we wanted to get everything up to snuff but ran out of time. We hired someone to do a lot of the painting but ran out of time with the prep-including filling in nail holes. (nobody seemed to ever do that before around here. Once woodwork changes from dark brown to white, the holes are a lot easier to spot!) Let me tell you there are a LOT of holes to be filled, sanded, primed and painted.
One of the related projects was filling in random gaps that appeared during the project or were there the whole time. In some areas, we removed plaster and replaced it with drywall, resulting in large gaps. One example is a gap between the window molding and the wall in one of the bedrooms.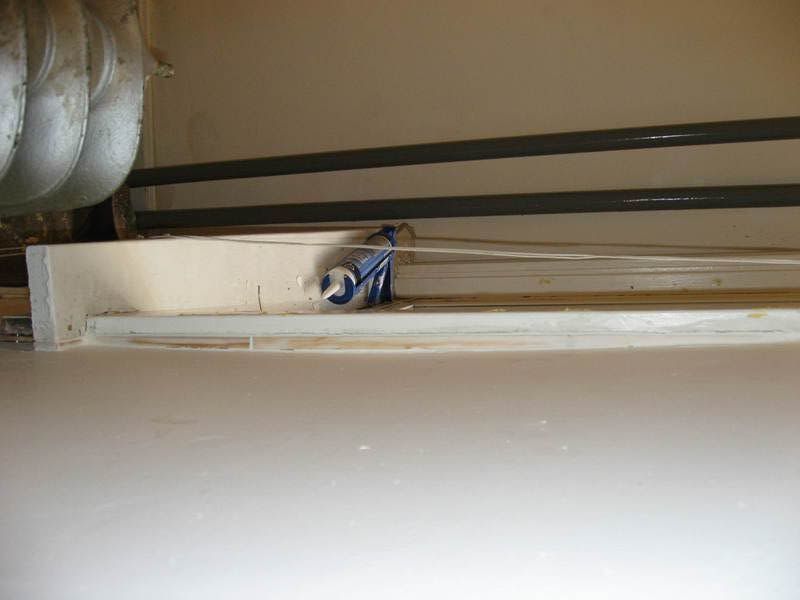 It was a significant gap too big for just caulk alone. We ended up nailing in some wood scraps, caulking, and we will paint. It's in a bit of a hidden area, so disquising it will probably be sufficient.
We also have been caulking up a storm. There were numerous areas of the picture molding that had gaps.
Once it was painted, the gaps stood out like a sore thumb. (As an aside, I think caulk has to be one of, if not the greatest home improvement inventions!)
Hopefully we'll be able to paint the middle bedroom ceiling this weekend and actively market the apartment. Glenn put the finishing touches on the bathroom ceiling. For a review, while doing our flooring project on the second floor, a workman stepped through the ceiling, resulting in this:
But Glenn fixed it, and it now looks great!
(can you believe someone wanted us to pay $1000 for this?!?)
Sort of an irritating thing that transpired was random paint cracks. For really bad cracks I went back to scraping, taping, compound, etc. I don't think I'll ever put away the compound.
Outside of the house stuff, I've been busy with the chicago chapter of the Red Cross'
Heroes Breakfast
. It's the chapter's largest fundraisers and a chance to honor extraordinary acts done by local individuals. This year was the second year I was on the planning committee. I'm glad I could have been a part of it.
Labels: detail work